Copper Forecast And Technical Outlook: Copper future Daily technical chart has formed a "Rising Channel" as Copper prices hit a high of 738.20 post-June 2022, the last couple of sessions back, since then it has entered a slight correction mode.
where it has been testing 720 levels which if breached we might see a short term sell-off, Low inventories, and hopes for economic recovery could, however, provide hope for the metal this year, and sentiments of the copper were lifted as copper headed for gains in the start of the month, while copper gave a strong weekly closing last week, as it attempted to cross 740, however it closed with negative sentiments overall as it breached 725 levels, while in the daily charts we saw copper breaching 720 levels and closing just above it, making the bearish sentiments are stronger, and now for the commodity, next level for doing a breakout is 750 levels, meanwhile in the last session it touched a low of 717.80 where it, managed to stay afloat and not breach 715 levels, below which bears will be stirred, if 715 levels are breached during the session it can be used as a stop loss for any short position during the intraday session, and for the commodity 712 is acting as support until it is not breached chances of recovery exist until then copper might trade in a sideways consolidation, meanwhile, the current session resistance is 729, which if broken, we can witness a reversal.
Copper MCX Research Report Call
MCX Copper Tips Today: Buy if able to sustain above 722.80 for targets 725-729, keeping an SL of 720. sell if it breaks 717, for targets 714-712, keeping an SL of 719.55.
Copper Technical chart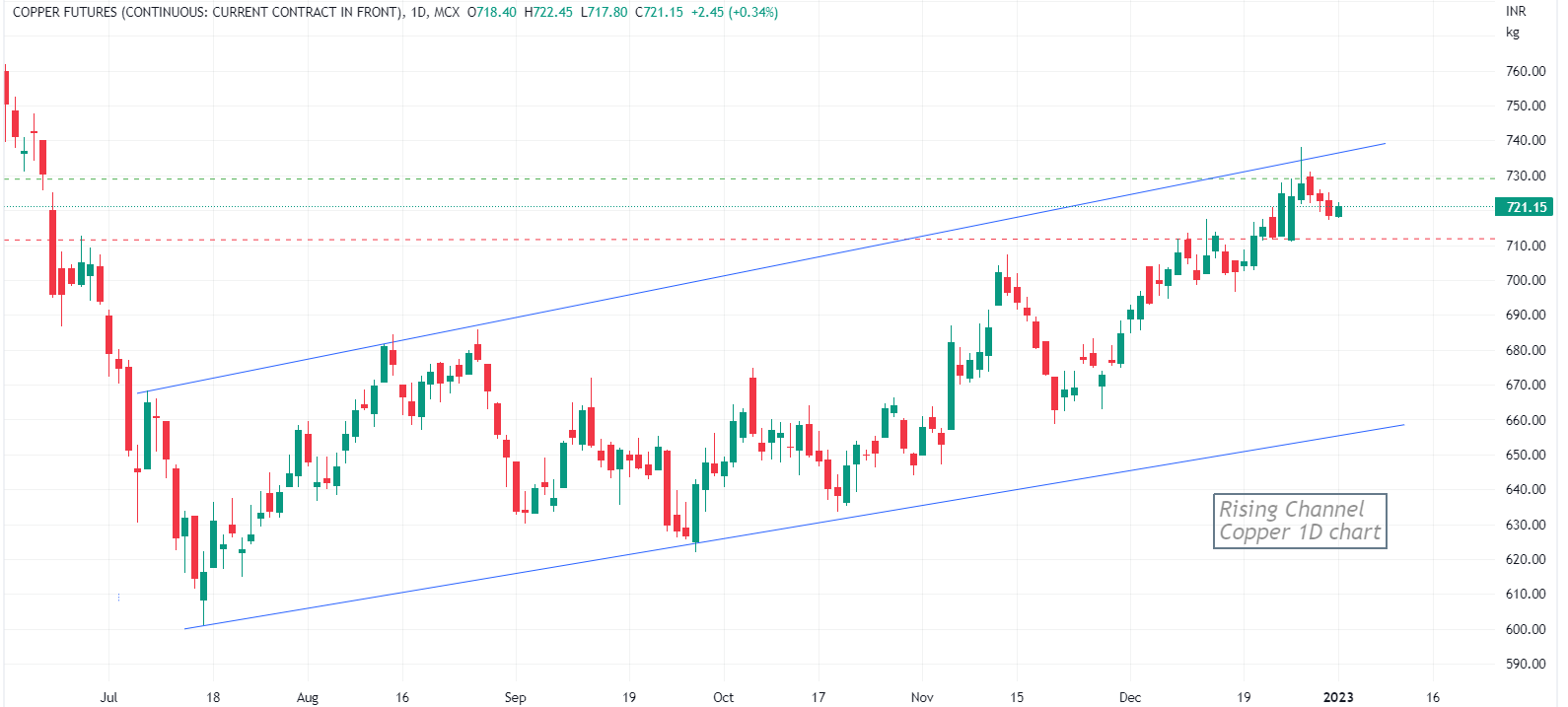 Note: Above information is not recommending any buy or sell position, this is for your reference only and trading or investment in commodities & derivatives is subject to market risk.
Disclaimer: Investment in the securities/commodities market is subject to market risk, read all the related documents carefully before investing/trading.